BEE & PUPPYCAT
Created by Adventure Time Artist Natasha Allegri, New Season of Cult-Favorite Animated Series Comes to Netflix September 6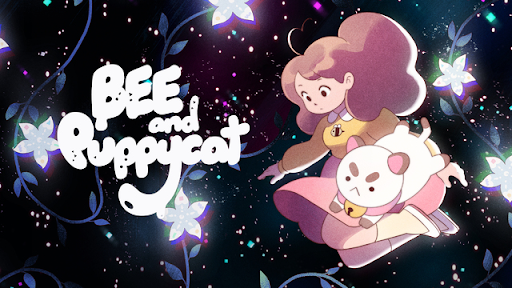 August 31, 2022—The wait is over! From its start as a 2-part, 10-minute short that became an immediate hit amassing millions of views, to a record-breaking Kickstarter campaign that brought the series to its first full season, fans have driven the breakout success of cult animated web series Bee and PuppyCat, and keep wanting more. Now, the hit series created by Natasha Allegri ("Adventure Time") and produced by Frederator Studios ("Adventure Time" and "Castlevania") will delight fans once again with new adventures in the debut of its all-new season, Lazy in Space, dropping September 6 on Netflix.
Bee and PuppyCat follows a twenty-something temp worker named Bee and her mysterious companion PuppyCat as the two travel on fantastic adventures across space while taking on various intergalactic odd jobs to help make rent. The first season of the original web series quickly became not only a fan obsession, but a critical sensation:
"Bee and PuppyCat fills a niche that's been relatively unexplored, not just on Netflix, but in Western animation as a whole." – Polygon
"..quirky and kawaii as all hell." – Vulture
"'Bee and PuppyCat' is Your New Favorite." – IndieWire
"These little details, the symbols, references, and quirks are the pieces that make a good show great and what keep viewers re-watching the first season and waiting with bated breath for the second." – CBR.COM
"The show hit a chord. For one, it's a cartoon about a grown woman. Those are incredibly uncommon. Moreover, Bee & PuppyCat is written with a slice-of-life honesty that's even more rare." – LA Weekly
With its stylistically distinct look and feel, outlandishly original characters and storytelling, Bee and PuppyCat shares creator Natasha Allegri's unique creative mastery and vision in this new season featuring 16 new half-hour episodes.

The new season will kick off with a re-introduction to the beloved characters and a re-imagining of the original storyline, before launching into the all-new story arc that further showcases the charm and originality of the show's voice and its comic, yet dreamy, appeal unmatched in other popular animated series.
"When I think about making stuff, I think about who I'm making it for," says series creator Natasha Allegri. "The person I made Bee and Puppycat for is someone who is chaotic, who likes entertainment, and cute stuff, maybe a little bit socially unaware, who wants something comforting."
"The incredibly talented team on the series are truly outstanding," adds Kevin Kolde, Executive Producer. "It's a rush to see that early buzz has already pushed the new series to trend on Twitter and TikTok with millions of views, and we know fans will love what's coming as much as we do."
Bee and PuppyCat was created by Natasha Allegri and produced by Frederator Studios in partnership with OLM, Inc. with Executive Producers Natasha Allegri, Eric Homan, Kevin Kolde, Michael Hirsh, Toshiaki Okuno, Fred Seibert, Junichi Yanagihara and Art Directors Hans Tseng and Efrain Farias. Series animation was done by OLM, Inc., with Allegri, Tseng and Farias relocating to Japan during production to oversee creative direction.
Watch Bee and PuppyCat on September 6 th on Netflix.
View trailer: https://www.netflix.com/ca/title/81245457
Screener episodes are available by request.
Follow Bee and PuppyCat on TikTok @beeandpuppycat
Media Contact:
Kassandra O'Brien (on behalf of Frederator Studios)
[email protected]
Frederator Contact:
Isabel Schultz
[email protected]
ABOUT FREDERATOR
Frederator is a pioneer in streaming video and a leading independent producer of animation for streaming services, linear television, and on-line video platforms, owning and operating the largest global animation network on YouTube, with channels that boast over 2000 exclusive creators and influencers and garnering over a billion views every month. Over the past 20years, Frederator Studios has produced 19 series and more than 250 short films for and with partners including Netflix, Amazon, Google, Nickelodeon, Nick Jr., Sony Pictures Animation, and Cartoon Network, including Butch Hartman's The Fairly OddParents on Nickelodeon,Pendleton Ward's Adventure Time on Cartoon Network and Natasha Allegri's Bee and PuppyCat on Netflix. Frederator is a Genius Brands International, Inc. (Nasdaq: GNUS) company and has offices in Burbank, CA and New York, NY.